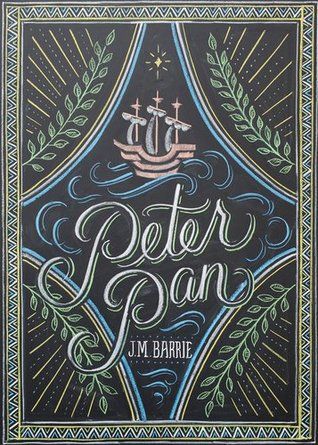 Author: J.M. Barrie
Title: Peter Pan
Genre: Classic
Publisher: Puffin
Publishing Date: 1902
Pages: 207
Source: Bought

bol | amazon | thebookdepository
One starry night, Peter Pan and Tinker Bell lead the three Darling children over the rooftops of London and away to Neverland–the island where lost boys play, mermaids splash and fairies make mischief. But a villainous-looking gang of pirates lurk in the docks, led by the terrifying Captain James Hook. Magic and excitement are in the air, but if Captain Hook has his way, before long, someone will be walking the plank and swimming with the crocodiles…

I read Peter Pan during Dewey's 24 Hour Readathon. I was already in hour 9 when I started it, so I don't remember every part of it clearly, but I know that I loved reading this little fairytale. I loved it even before I began reading it, because I watched several movie adaptions ánd Finding Neverland is an awesome Johnny Depp-movie. So, what could go wrong?
While I don't think this book is really meant for adolescents and adults, it's great to read something different for once. The book had been on my TBR since forever, because I love reading classics, and when I came across this copy I knew I had to read it. Did you see that cover? It's a Puffin Chalk edition and it's so lovely. If you're thinking about buying this book, you should definitely go with this edition.
So, about the story. I think everyone knows the story about Peter Pan: a boy that lives in Neverland and doesn't want to grow up. What I didn't really know was that the story is actually more about Wendy than about Peter. And that's something I liked, because while Peter is portrayed differently in every movie adaption, I didn't particularly like his character, so I was happy to see the story didn't revolve around him. He isn't just like a child: he's being childish and whiny. He doesn't see danger when there clearly is a lot and Barrie gave me the idea that Peter doesn't really care for any other character in the story. He only likes Wendy, but that's because he wants her to be his mother.
Even though I didn't like the main character, I liked the idea of the book and the way places and characters were described. It was like being inside the mind of a child, who views the world so differently. It lets you look at the world from another point of view: a view that's not forced, but innocent and maybe a bit naive. At the same time it lets you think about what we do day by day: it questions the most simple things adults do and turns these things into something ridiculous. That's why this fairytale is so eye opening and makes this book such a likeable read.