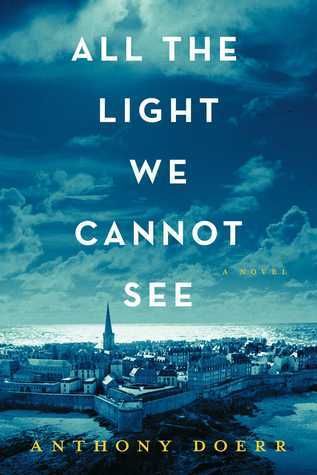 Author: Anthony Doerr
Title: All the light we cannot see
Genre: Historical fiction
Publishing Date: May 2014
Pages: 531
Source: Dutch publisher

Marie-Laure lives with her father in Paris near the Museum of Natural History, where he works as the master of its thousands of locks. When she is six, Marie-Laure goes blind and her father builds a perfect miniature of their neighborhood so she can memorize it by touch and navigate her way home. When Marie-Laure is twelve, the Nazis occupy Paris, and father and daughter flee to the walled citadel of Saint-Malo, where Marie-Laure's reclusive great-uncle lives in a tall house by the sea. With them they carry what might be the museum's most valuable and dangerous jewel.
In a mining town in Germany, the orphan Werner grows up with his younger sister, enchanted by a crude radio they find. Werner becomes an expert at building and fixing these crucial new instruments, a talent that wins him a place at a brutal academy for Hitler Youth, then a special assignment to track the resistance. More and more aware of the human cost of his intelligence, Werner travels through the heart of the war and, finally, into Saint-Malo, where his story and Marie-Laure's converge.

I've read this book in January and still hadn't written a review, oops… So, here it is eventually! I've heard so many good things about this one before I started reading it, but I didn't really know what it was about, except that it is comparable to The Book Thief, which I've also read.
This book pleasantly surprised me. It took a while for me to really get into it, but when I did, it was wonderful. The characters are so relateable: Doerr describes every thought and idea into detail, so you're able to follow the lines of thinking. On the other hand there are not too much details. Marie-Laure and Werner are both just children when the story begins and they're both genius, but I never felt like they were too mature for their age. The descriptions of their thoughts are realistic and their traits are just perfect.
What I loved about this book was the structure. Doerr jumps from present to past in a natural way. The story never becomes dull and the jumps in time are perfectly timed. Because of that the story unfolds slowly, but surely and I loved how everything was connected in the end. While Marie-Laure is on the 'good' and Werner on the 'bad' side during the second WorldWar, I appreciated the way Doerr shows everything is not black and white. These characters are not necessarily good or bad. And they are not necessarily happy or unhappy according to their situations. I think this is the way everyone should look at the world, but unfortunately not everyone does, which makes this book refreshing. What's not to love?