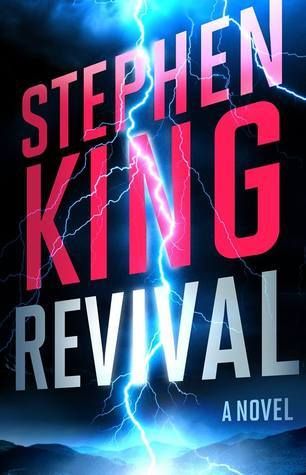 Author: Stephen King
Title: Revival
Genre: Horror
Publisher: Scribner
Publishing Date: November 11, 2014
Pages: 403
Source: Publisher

bol | amazon | thebookdepository
In a small New England town, over half a century ago, a shadow falls over a small boy playing with his toy soldiers. Jamie Morton looks up to see a striking man, the new minister. Charles Jacobs, along with his beautiful wife, will transform the local church. The men and boys are all a bit in love with Mrs. Jacobs; the women and girls feel the same about Reverend Jacobs — including Jamie's mother and beloved sister, Claire. With Jamie, the Reverend shares a deeper bond based on a secret obsession. When tragedy strikes the Jacobs family, this charismatic preacher curses God, mocks all religious belief, and is banished from the shocked town.
Jamie has demons of his own. Wed to his guitar from the age of thirteen, he plays in bands across the country, living the nomadic lifestyle of bar-band rock and roll while fleeing from his family's horrific loss. In his mid-thirties — addicted to heroin, stranded, desperate — Jamie meets Charles Jacobs again, with profound consequences for both men. Their bond becomes a pact beyond even the Devil's devising, and Jamie discovers that revival has many meanings.

Mister King has a lot going on in 2014: after releasing Dr Sleep and Mr Mercedes, here's yet another novel and I can tell you it's awesome. One of the biggest inspirational influences on Stephen King is H.P. Lovecraft and his fictional Necronomicon. This has never been any clearer than when reading Revival, because King uses the fictional contents of the Necronomicon (that nobody really knows) as the basis of his book. While Lovecraft has never been clear on this issue, Revival's character Charles Jacobs is aware of what's inside the book and he uses it for no good.
Charles uses what he calls 'secret electricity' to heal people's illnesses, but these 'revivals' have serious consequences. While Jamie doesn't want anything to do what it, he gets caught up in Charles' web at different stages in his life. Revival follows Jamie as he grows up and grows older. Faith, the afterlife, but also music are a big part of that. King is, as always, master of the details. Everything he mentions in chapter one will play a part in the rest of the book: these things pop up when you don't expect them to. This makes clear that King is a great storyteller.
A big bummer for me was the ending. I won't spoil anything for you, but I can tell that it disappointed me. Throughout the book the afterlife is one of the big questions, which makes the book a thrilling read. While King refers to Lovecraft's Necronomicon, he never imitates Lovecraft. Until the last thirty pages. That was the only thing about the book that bothered me, but besides that I really loved it.