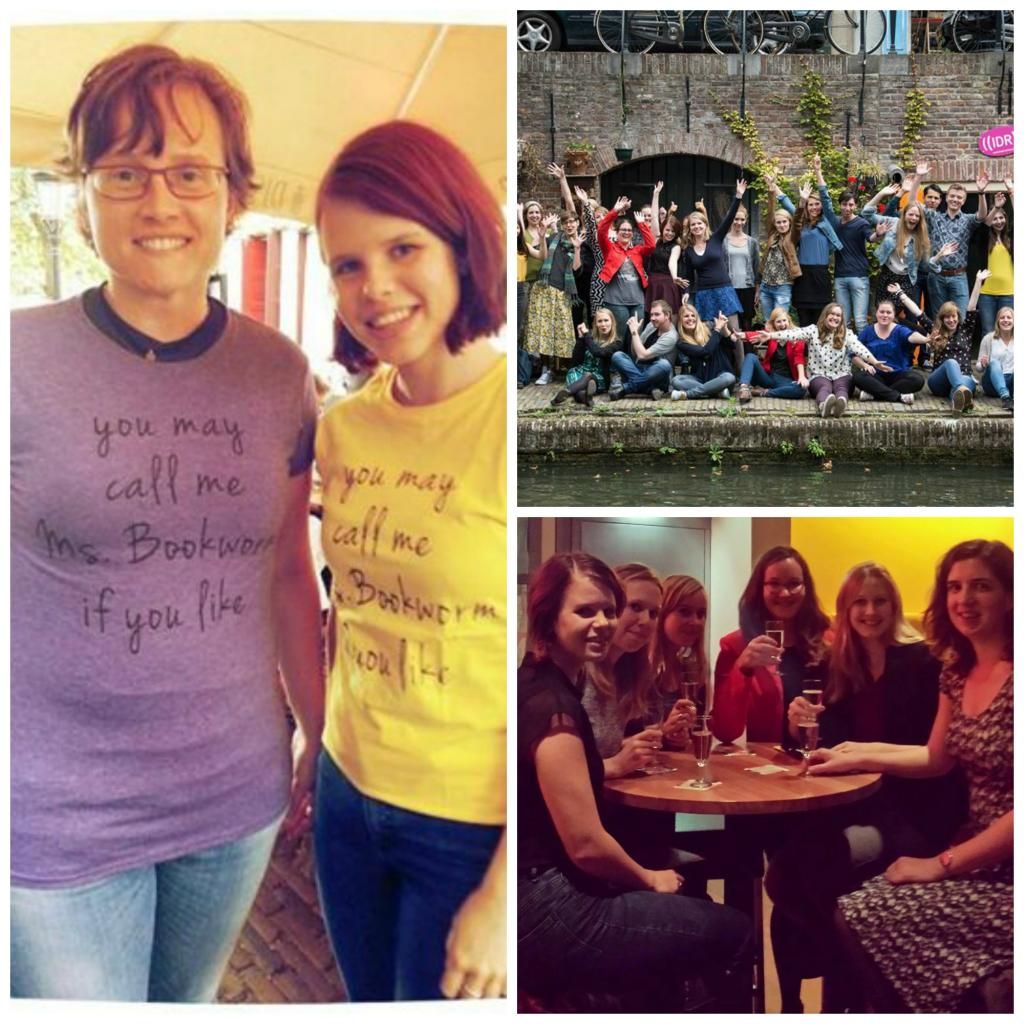 me and Ciska from Ciska's Book Chest at Manuscripta: the opening of the literary year in Utrecht
editorday at CultuurBewust.nl | bootcamp theater reviewing for CultuurBewust.nl
Briefly | Omg, I've missed blogging so much. I'm busy studying (Master Intercultural Communication) and working as an editor in chief for the literary department at CultuurBewust.nl (next to actually working for money), that I totally didn't have the time to blog that much. :( I'm going to try to post more in the next few weeks, but I can't really promise you anything. Just know I'm thinking about you, my dear readers!
Time and Place | Sunday September 21st, 17:36, at my couch
Eating and Drinking | My boyfriend just baked some fries (all by himself, from scratch!) and hamburgers. So very British hamburgers and beer it is. Yay. :)
Reading | <3. I'm so into reading, even though I have to read a lot of academic stuff for study. Last week I read The storied life of A.J. Fikry, which was awesome. I'm now reading The dark room of Damokles for a course I'm following and a Dutch literary novel for review, but I can't wait to dive into the fantasy and thrillers of this world when all this is done. Stephen King and George R.R. Martin, I haven't forgotten you. ;) Also, I'm really looking forward to Dewey's 24 Hour Readathon on October 18th.
Watching | Yay for Netflix. I wasn't feeling like doing anything last Friday evening (and I was too tired to read a lot), so I started watching Penny Dreadful. I declare myself in love with these series now: horror, psychological, fantasy, supernatural. This is definitely ma thaaang.
Listening | I think I've neglected this part of my life, oops.. I was totally planning on learning how to play guitar and keys (which I both own), but I just don't have the time. I do listen to music occasionally, but not that much unfortunately (I can't read and listen to music at the same time!)
Writing | I'm writing A LOT for different sources, but not anything fictional. Only reviews and reports, but I like that too: as long as I can write.
Blogging | Last week I reviewed Inamorata by Megan Chance and I gave away a copy of that book, yay. Apart from that I haven't been blogging much, but I'm planning on doing more so in the future. Please don't unsubscribe. I'm still here!
Appreciating | Oh so much. I appreciate my boyfriend so much, because he's always there for me. :) Also, I appreciate the people at CultuurBewust, because we're so awesome at working at the website together. Furthermore, I'm really beginning to appreciate the neighbourhood I live in now. One of the neighbours (we live in a flat and are surrounded by three other flats) has started a Facebookpage for this neighbourhood and it's so nice meeting all these people that live near you. :)
Promoting | I think I already promoted some people and websites throughout this post, but I'll be happy to do so a little more. As you might have noticed while reading this post, I'm also writing for a Dutch website, CultuurBewust.nl. It's a website for young people who want to know more about all things cultural and it features movie, theater, literature, art and music. I'm the editor in chief of the literature department, which is an amazing way of learning things. But I still do write posts now and then. You can check out my profile here.
Wanting | More free time to write and blog! I'm drowning in the work I have to do. :(
Anticipating | The Sweeney Todd performance by the Nederlandse Reisopera, which I'm going to with the boyfriend. Also, I really want to go to the Haunted Castle in Lisse, the week before Halloween. Also: fall and winter in general! I love the colder weather. :)