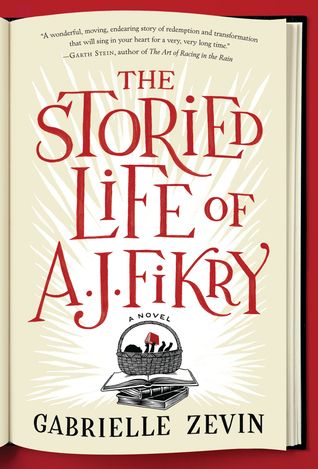 Author: Gabrielle Zevin
Title: The Storied Life of A.J. Fikry
Genre: Modern fiction
Publisher: Algonquin Books
Publishing Date: January 2014
Pages: 258
Source: Publisher

bol | amazon | thebookdepository
A. J. Fikry's life is not at all what he expected it to be. His wife has died, his bookstore is experiencing the worst sales in its history, and now his prized possession, a rare collection of Poe poems, has been stolen. Slowly but surely, he is isolating himself from all the people of Alice Island-from Lambiase, the well-intentioned police officer who's always felt kindly toward Fikry; from Ismay, his sister-in-law who is hell-bent on saving him from his dreary self; from Amelia, the lovely and idealistic (if eccentric) Knightley Press sales rep who keeps on taking the ferry over to Alice Island, refusing to be deterred by A.J.'s bad attitude. Even the books in his store have stopped holding pleasure for him. These days, A.J. can only see them as a sign of a world that is changing too rapidly.
And then a mysterious package appears at the bookstore. It's a small package, but large in weight. It's that unexpected arrival that gives A. J. Fikry the opportunity to make his life over, the ability to see everything anew. It doesn't take long for the locals to notice the change overcoming A.J.; or for that determined sales rep, Amelia, to see her curmudgeonly client in a new light; or for the wisdom of all those books to become again the lifeblood of A.J.'s world; or for everything to twist again into a version of his life that he didn't see coming.

Omg, this book was so fantastic! Do you love books? Do you want to read books about books? Do you want books to be the center of everything? Then this one is definitely for you. If you don't really like books (but occasionally read one) this is also something for you: I can promise you you're going to love it.
A.J. Fikry is a sad, grumpy (but not so old) man who owns a bookstore, which he runs by himself after his wife passed away. No one likes him and he doesn't really have any friends, but then one day a cute little kid is left behind in the shop: Maya. Throughout the story Fikry and Maya grow to love each other, which is made much stronger because of their shared love of books. Also, there's a sales representive from a publishing house who has a special kind of interest in Fikry, which makes the plot even more interesting.
I didn't think I could grow to love books more than I already did, but this book made me do it. At the beginning of every chapter there's a review by Fikry himself, describing a book and making connections with his own life and life in general. Everything in The storied life of A.J. Fikry breathes books and the love for them, which made me appreciate those little binded things so much more. :)